Novastar H Series H15 H9 H5 H2 Video splicer matrix for Narrow Pitch LED Display Media Server
$8,500.00
Regular price
$15,500.00
H series video splicing server is a new generation of video splicing server developed by Nova Technology for small pitch screen with high picture quality, both Can be used as video processing, video control two-in-one video splicing processor, can also be used as a pure video splicing processor, the whole machine uses Modular configuration, card type structure, flexible configuration of input and output cards according to user needs, supports hot-swappable input and output cards, performance Stable, can be widely used in energy electric power, justice prison military command water, meteorological earthquake enterprise management metallurgy steel bank financing Defense security, public transportation, exhibition display, production and dispatch radio and television education and research, stage rental and other fields.
Based on the powerful hardware FPGA system architecture and modular design concept, the H-Series not only has a stable and efficient hardware-only architecture, but also has the ability to be used in a wide range of applications, such as Genetic gene, at the same time can support a variety of interface modules for flexible personalized combination, simple maintenance and reduce equipment failure rate. H Series Support the common HDMI, DVI, DP and IP input interfaces on the market, support 10bit video source input and processing. Support 4K high-definition video input and output; support 16 network port and 2 optical port LED splicing transmitter card, to achieve optical port, network port between the Backup and ultra-long distance transmission , support multi-screen layer management, input out EDID management and premonitoring, input source name modification. BKG and OSD settings, etc., bring you a rich experience of screen structure.

It supports multi-user online operation in Windows, MAC, iOS, Android and Linux environments, realizing information synchronization and fast web response, which greatly improves the efficiency of field environment configuration, and supports online firmware upgrade so that users can complete hardware upgrade configuration on PC.
Novastar H Series H15/H9/H5/H2 Video splicer matrix

Card-operated design for flexible configuration
The maximum load of a single LED splicing transmitter card is 10.4 million pixels.
The single LED splicing transmitter card supports 2-channel OPT interface output, which realizes long-distance transmission and simple system interconnection architecture.
Support single card slot with multiple capacity.
- 4-channel 1920×1080@60Hz
- 2-Channel 3840×1080@60Hz
- 1 channel 4096×2160@60Hz
Support single card interface with screen
Real-time monitoring of input/output online status.
Hot-swappable input/output cards do not affect the normal operation of other boards.
The maximum support for 3840×2160@30Hz network camera input source, multi-source splicing can be realized.
Support HDCP automatic decoding of input source.
Multi-screen management, centralized control
Each screen can be customized with other different output resolutions.
The output interfaces are synchronized and spliced.
The frame synchronization technology is used to ensure that all the output interface images are completely synchronized, so that the whole screen can be played smoothly without losing frames, without tearing and stitching.
Support irregular rectangle splicing.
Support irregular rectangle splicing, the splicing is not restricted.
Diversified display, rich visual
Web control for easy operation
Multi-monitoring and backup design, stable and reliable

Novastar H Series H15/H9/H5/H2 Video splicer matrix Appearance

Novastar H Series H9/H5/H2 Video splicer matrix Working Diagram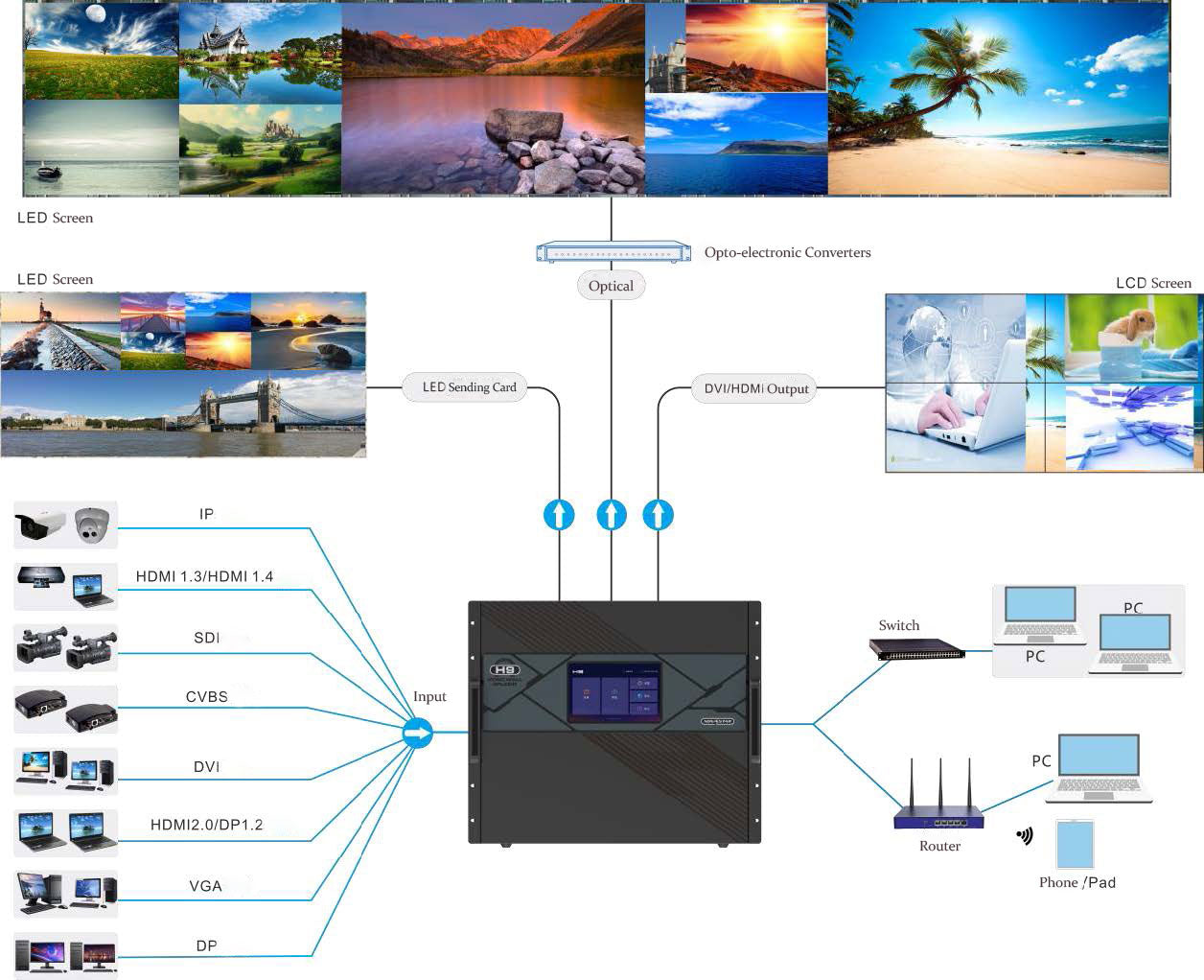 Novastar H Series H15/H9/H5/H2 Video splicer matrix

Model: H15 | H5 | H9 | H2
Max. number of input channels: 120 | 40 | 60 | 16
Maximum number of installed video output cards: 3 output cards | 10 output cards | 2 output cards
Maximum number of output channels: 80 outputs | 12 outputs | 40 outputs  | 8 outputs 
LED Display Maximum Load Points (LED splicing transmitter card):130 million| 31.2 million|52 million | 20.8 million
Maximum number of screens: 160 | 12 | 40 | 8

Electrical Specifications
Power supply: 100-240V~,50/60Hz, 10A-5A, dual power backup design
Power Consumption: 900W | 400W | 450W | 210W
working environment
Temperature:0℃~45℃
Humidity:0%RH~80%RH, no condensation
storage environment
Temperature: -10℃~60℃
Humidity:0%RH~95%RH,no condensation
Physical specifications
Dimensions:482.6 mm × 683.0 mm × 533.0 mm | 482.6mm×532.8mm×228.2mm | 482.6mm×533.0mm×405.8mm mm×405.8mm | 482.6mm × 88.1mm × 455mm
Net weight: 61.8kg |25 kg|35kg | 15.6kg
Total weight:75.5kg | 28 kg|49 kg | 18kg
Size of the air box:775 mm × 675 mm × 845 mm | 780mm×615mm×345mm | 780mm×680mm×590mm | 660mm × 570mm × 210mm

Further Information:
Novastar H Series H15/H9/H5/H2
Novastar H Series Video Wall Splicer Specification
Novastar H15 Video Wall Splicer Specification