Novastar VX16s LED Display Video Processor All-in-one LED controller
$2,570.00
Regular price
$3,999.00
The VX16s is new all-in-one controller that integrates video processing, video control and LED screen configuration into one unit. Together with V-Can video control software, it enables richer image mosaic effects and easier operations.
The VX16s supports a variety of video signals, Ultra HD 4K×2K@60Hz image processing and sending capabilities, as well as up to 10,400,000 pixels.
Thanks to its powerful image processing and sending capabilities, the VX16s can be widely used in applications such as stage control systems, conferences, events, exhibitions, high-end rental and fine-pitch displays.
Industry-standard input connectors
− 2x 3G-SDI
− 1x HDMI 2.0
− 4x SL-DVI
16 Ethernet output ports load up to 10,400,000 pixels.
− 1x 4K×2K main layer 2x 2K×1K PIPs (PIP 1 and PIP 2)
− Adjustable layer priorities
Up to 4 DVI inputs can form an independent input source, which is DVI Mosaic.
Decimal frame rate supported
Supported frame rates: 23.98 Hz, 29.97 Hz,47.95 Hz, 59.94 Hz, 71.93 Hz and 119.88 Hz.
Supports 3D display effect on the LED screen.The device output capacity will be halved after the 3D function is enabled.
Personalized image scaling
Three scaling options are pixel-to-pixel, full screen and custom scaling.
Up to 4 devices can be linked to load a super large screen when used together with the video distributor.
Easy device operation and control through VCan
Up to 10 presets can be saved for future use.
Custom EDID and standard EDID supported
In backup mode, when the signal is lost or the Ethernet port fails on the primary device, the backup device will take over the task automatically.  
VX16s LED Video processor Appearance



VX16s LED Video processor Working Diagram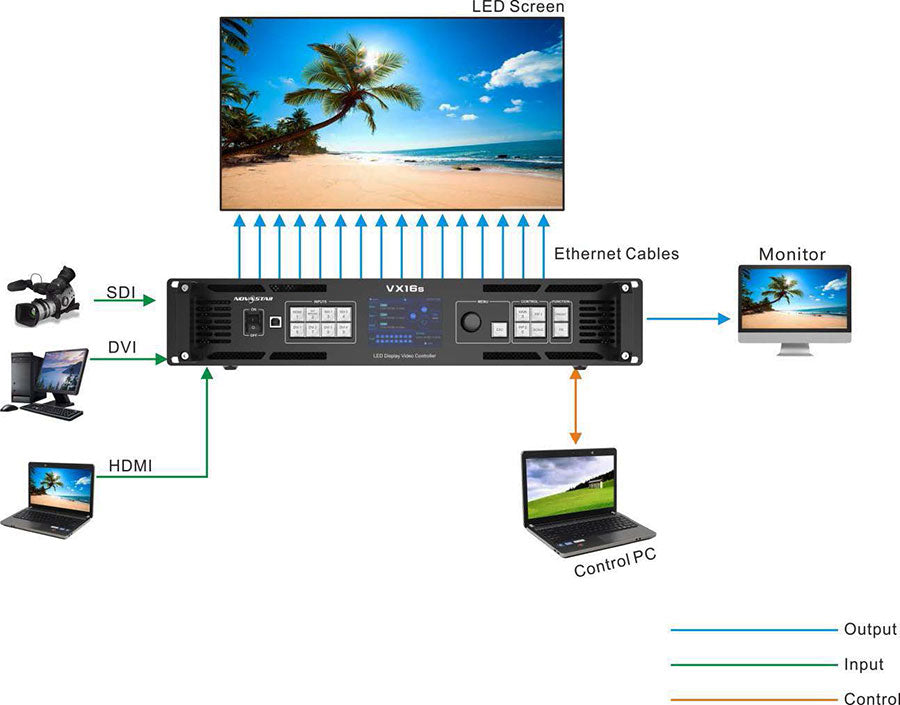 Specifications
Electrical Specifications
Power connector:100–240V~, 50/60Hz, 2.1A
Power consumption:70 W
Operating Environment
Temperature:0°C to 50°C
Humidity:20% RH to 85% RH, non-condensing
Storage Environment
Temperature:–20°C to +60°C
Humidity:10% RH to 85% RH, non-condensing
Physical Specifications
Dimensions:482.6 mm x 372.5 mm x 94.6 mm
Net weight:6.22 kg
Gross weight:9.78 kg
Packing Information
Carrying case:530.0 mm x 420.0 mm x 193.0 mm
Accessories 1x European power cord / 1x US power cord / 1x UK power cord / 1x Cat5e Ethernet cable / 1x USB cable / 1x DVI cable / 1x HDMI cable / 1x Quick Start Guide / 1x Certificate of Approval
Packing box:550.0 mm x 440.0 mm x 215.0 mm
Further Information:
VX16s LED Video Processor Specification
VX16s LED Video Processor User Manual