Magnimage MIG-F4-1U Multi-Screen Splicing Processor 4K Mosaic Box LED Video Processor
$800.00
Regular price
$1,150.00
MIG-F4-1U series 4K video splicing box is a new mini video splicing device launched by Maipu Vision. It features powerful, single-machine four-splicing, intelligent control and automatic backup. It supports DP and HDMI multi-input interfaces. Single input supports up to 4Kx2K/60Hz 4:4:4; supports 8K x1K/60Hz input and supports backward compatibility; stylish and easy to use, suitable for various multi-screen applications. 
Support horizontal pixel to pixel display in 7680 pixel, or upscale horizontal display in 11600 pixel.
Support 4K*2K/60 Hz 4:4:4 input by DP or HDMI for pixel to pixel display.
Support super large resolution 8K×1K/60Hz pixel to pixel input and output display.
Zoom different parts of one 4K*2K input source(with different contents) and display them on different screen.
Same input source to 4 outputs
For 4 screens of different size, you can customize each output's resolution and send the same input source to these screens.
Single MIG- F4 support up to 4 projectors blending. All the position, size and Gamma of blending area can be adjusted.
Magnimage MIG-F4 series 4K video mosaic box Features:
1.Single machine four stitching
2.Input DP×2, HDMI×2
3.Single input support 4K × 2K / 60Hz 4: 4: 4
4.8K x1K/60Hz input
5.Support EDID management function
6.Output support DVI × 4 or HDMI × 4
7.Support for custom output resolution
8.Single machine with 9 million pixels
9.Support input backup function
10.Multi-machine synchronous stitching
11.Preset save and call
12.Image capture, layer ZOOM function
13.Edge blending
14.Support computer host computer control, Android APP wireless control
15.Bring your own WIFI hotspot
Technical Specification
Input parameter
| | | |
| --- | --- | --- |
| Port | Quantity | Resolution specifications |
| DP | 2 | DP 1.2 support 3840*2160/60Hz and customized resolution |
| HDMI | 2 | HDMI 2.0 support 3840*2160/60Hz and customized resolution |
Output parameter
Port

Quantity

Resolution specifications(Single DVI output )

DVI/HDMI

4

Single output port resolution:
1024×768 /60Hz  1366 ×768 /60Hz  1440×900 /60Hz  1280×1024 /60Hz  
1680×1050 /60Hz  1600×1200 /60Hz  2560×816 /60Hz  1440 ×1440 /60Hz  
1920×1080/60Hz and customized. Widest 2900, highest 2160.
 Product accessories
Power cable ×1       Power adapter ×1     U-disk ×1    Square mouth USB cable ×1    Certificate of qualification ×1     User manual ×1

Magnimage MIG-F4-1U 4K Video Splicer



MIG-F4-1U series 4K video splicing box is the latest mini video splicing device launched by Magnimage, with powerful, stand-alone quad splicing, intelligent control, etc.; supports DP and HDMI input interface; single input maximum support 4K x 2K/60Hz 4:4:4; DP supports 8K x 1K/60Hz input, and supports backward compatibility. It is fashionable, easy to use and suitable for a variety of multi-screen applications.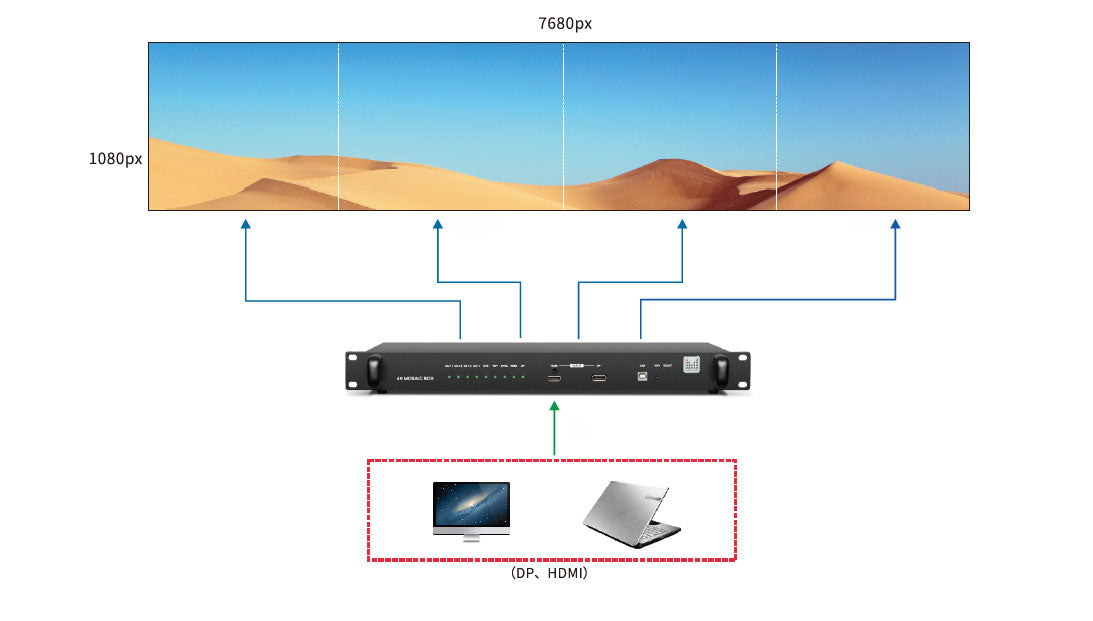 View More
Magnimage MIG-F4 series brief
MIG-F4 Controling software