Magnimage LED-W2000 Series 4K*2K LED Video Processor LED-W2000-2DH LED Display Controller
$1,150.00
Regular price
$2,000.00
LED-W2000 series is an 4Kw2K video processor which integrates multiple functions such as mosaic, switch and multi-window display. This processor integrates various professional input ports, single input support maximum 4Kw2K/60Hz or 8K*1 K/60Hz. Because of the high-quality images, pixel to pixel display of giant resolution and flexible operation ways, it is widely used in exhibitions, business conferences, stage performances, theaters and TV stations etc,.
The load capability of LED-W2000 series is several times of normal video processor, support EDDI management and customized output resolution, single processor output can be maximum 8192 pixel width, refresh rate up to 120Hz, greatly improved the utilization of load capability. It also provides various regular output resolution options for scaling according to real size of LED screen.
Perfect video input ports, including SDl*1, DVlw4, HDMlw3, opw4, and it also allowed to extend 2 more inputs each for DP1 .2/HDM 12.0. It supports Internet, USB and RS232 control to link with various video equipment.
Functions and features:
LED- W2000-2DH Video Processor


*Standard input: 12 ports, divided into 4 groups, each group includes 3 inputs, using one out of three, total inputs are SDI x 1, HDMI x 3, DVI x 4, DP x 4.
Resolution specification: SDI (3G SDI: 1080P/i and below) , HDMI, DVI and DP, all support EDID within 4K x 1K/60Hz.
*Extend inputs: support 2 groups of 4K module at the same time, each module includes DP1.2 x 1, HDMI 2.0 x 1 (include 1 loop). In one module, the input port can use one out of two.
*Output: 4 groups of DVI output, each group includes 2 x DVI copy output.
8K x 1K pixel to pixel input/output
4 x DVI horizontal mosaic, 8K x 1K pixel to pixel and multi picture display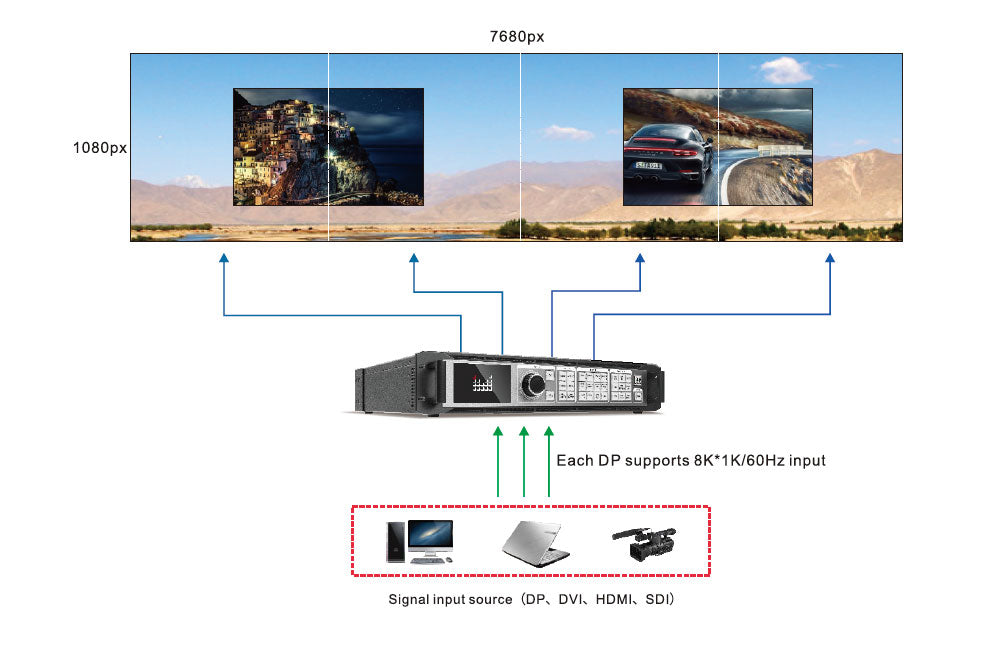 4K x 2K pixel to pixel input/output
4 x DVI 2x2 mosaic, 4K x 2K pixel to pixel and multi picture display.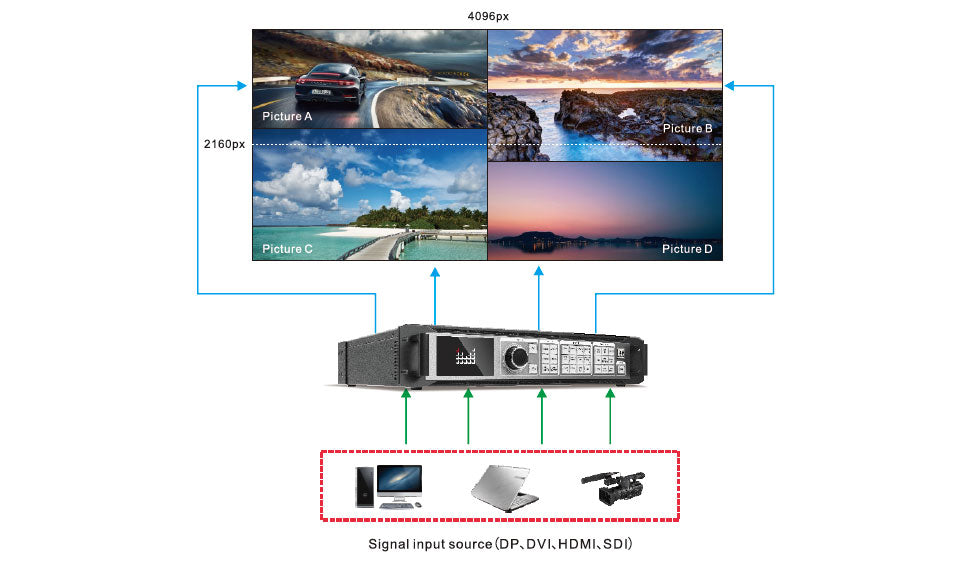 Multi-machine cascade switch
Do Synchronous switch operation of multiple LED-W2000 in same local area network.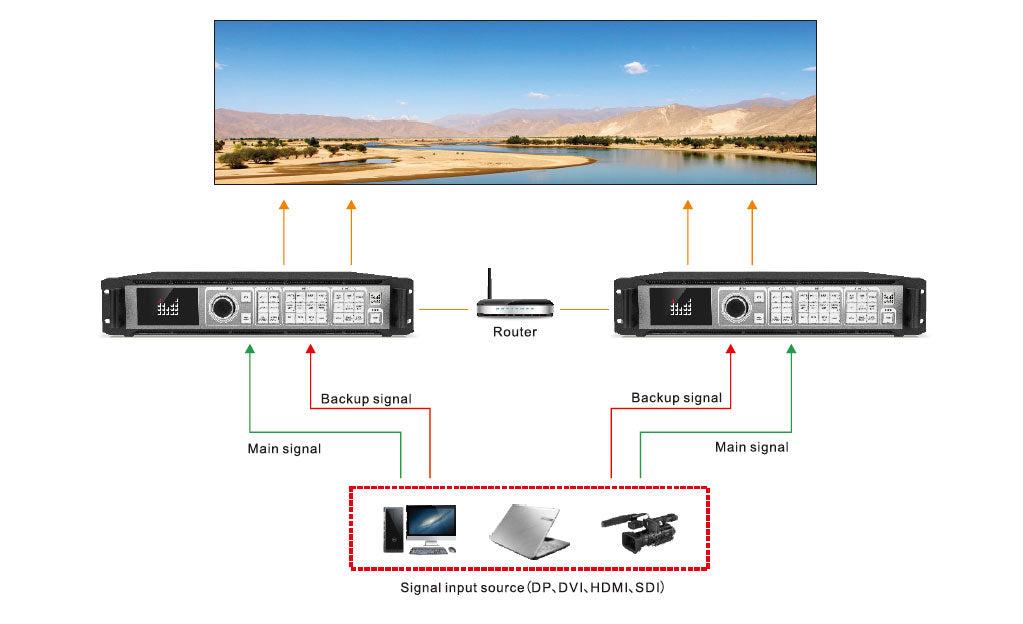 Make multiple input sources (same resolution, maximum 4 ports) combine to one integral whole in input side of processor,
make it as one combination source.
Simplify the setting steps and optimized operation, no need to consider the equal/unequal situation.
Tile function is supported under mosaic, switch and backup mode.
Support 2 groups of Tile setting, can quickly adjust the combination source through Tile button of front panel.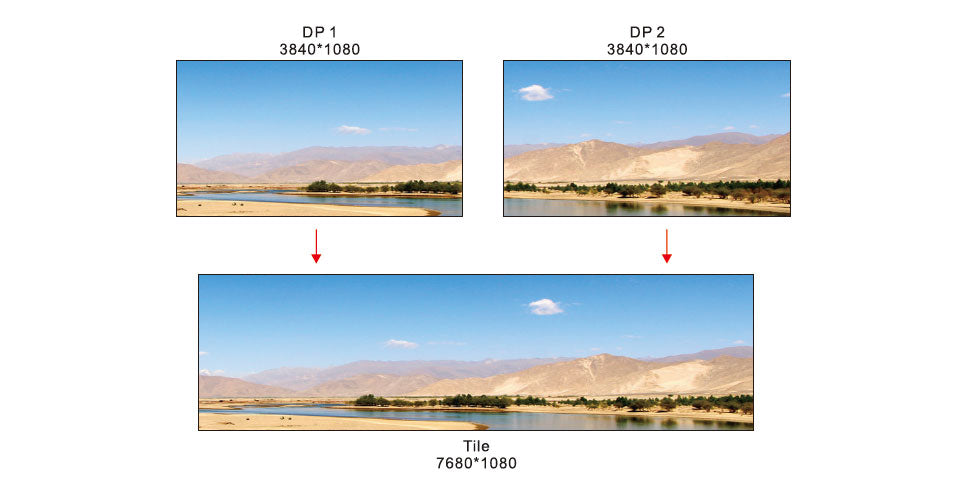 Support input backup function, freely switching by automatic or manual between host and standby signals.


Specification
Input power supply 100-204V AC 50/60Hz
Power consumption 90W
Operating temperature 0~45°C
Overall dimension(L×W×H) 482.6×446.3×92.5mm
Net Weight 6.7kg
Further Information:
Magnimage LED-W2000
Magnimage LED-W2000 LED Video Processor Specification
Magnimage LED-W2000 LED Video Processor User Manual