Huidu LCD Smart Motherboard HD-40 LCD Multimedia Card LCD Display Controller
$40.00
Regular price
$500.00
LCD Smart Motherboard HD-40
HD-40 is a LCD digital signage motherboard, come with Wi-Fi, support mobile APP management, it can use LAN cable/TF card update programs, standard 1GB DDR and 16GB/8GB memory, rech extension interface, suitable for various occasions.
High stability. The A40i Android integrated board adds its own unique technology to the hardware and software to ensure the stability of the product, which can make the final product reach 7*24 hours unattended.

High integration. The A40i Android all-in-one board integrates Ethernet, Wi-Fi, Power amplifier, TF expansion card, USB expansion port, IR remote control function, HDMI, LVDS, Backlight control, microphone and other functions, which greatly simplifies the design of the whole machine.

High scalability. 6*USB (4 *Pins, 2 *standard), 5 *serial ports (4 *UART, 1 *DEBUG), and 5 *IO expansion ports available expand more peripheral devices.

High definition. It supports various LVDS/HDMI interface LCD displays, and supports various sizes and resolutions of cropped screens.

Perfectly support multiple mainstream touch screen functions such as multi-point infrared touch, multi-point capacitive touch, multi-point Nano film touch, multi-point acoustic wave touch, multi-point optical touch, etc.
LCD Smart Motherboard HD-40 Product Diagram: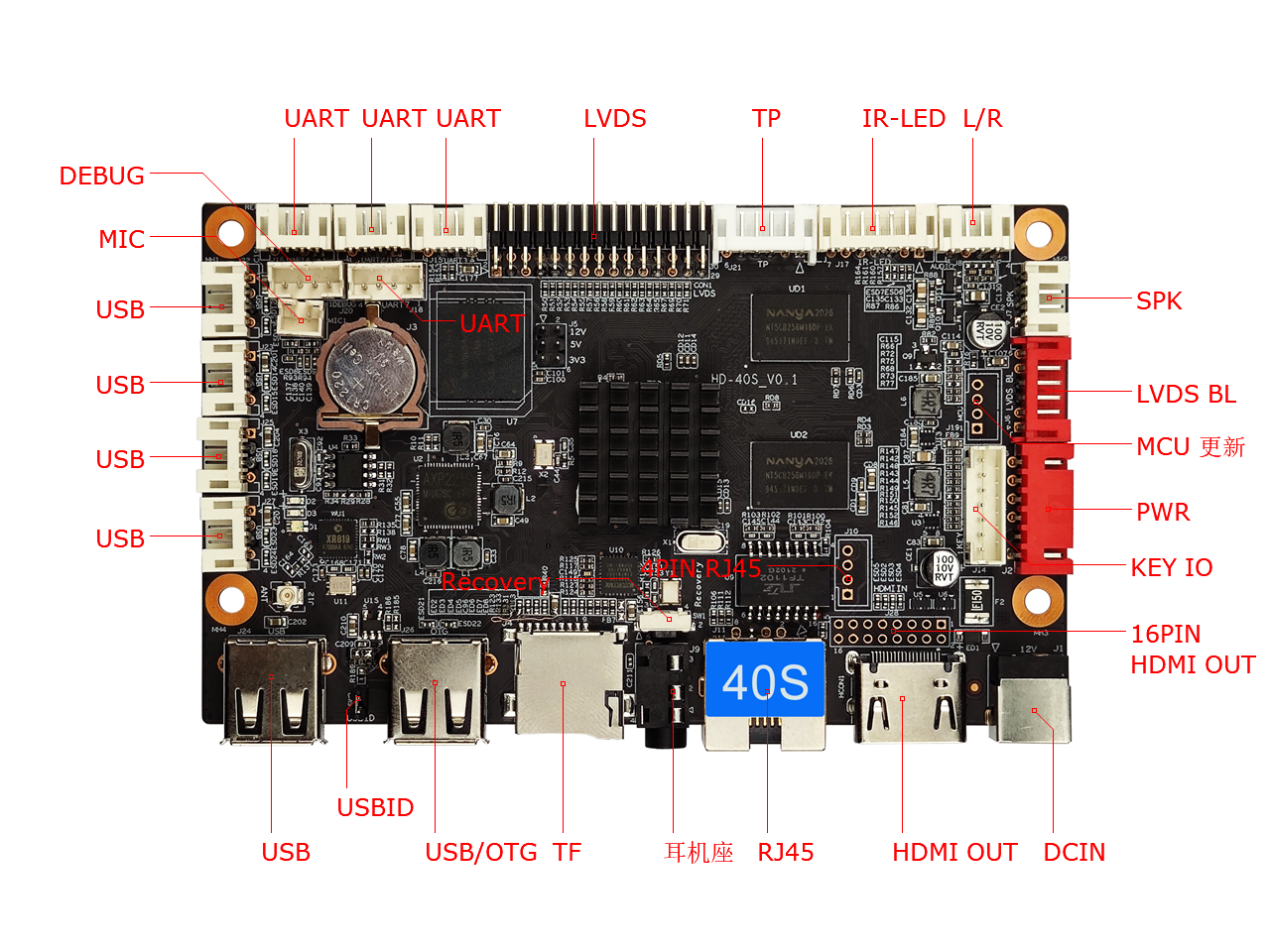 LCD Smart Motherboard HD-40 Size: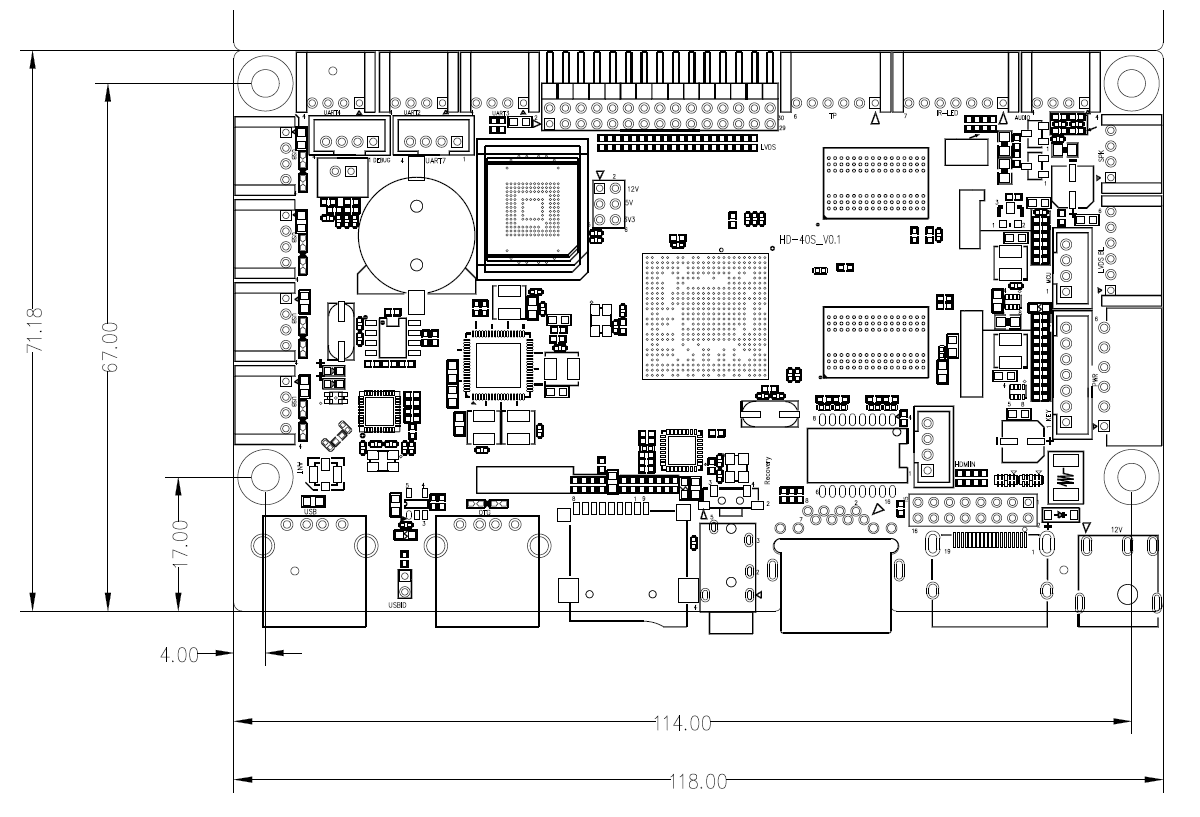 Hardware   specifications

CPU

A40i, Quad-core,Dominant Frequency up to 1.2GHz, Android7.1.1

GPU

Mali400 MP2

Memory

1GB

Built-in ROM

eMMC Default 8GB

TF Card Extend(Extendable SSD)

Network

RJ45 100M; Ethernet;

Wi-Fi, support   Wi-Fi 802.11b/g/n protocol;

Image rotation

Support 0 degree, 90 degree,   180 degree, 270 degree manual rotation

Display interface

1*LVDS interface   (single/dual, 6-bit/8-bit), support 3.3V/5V/12V power supply

Onboard backlight control   supports 12V backlight power supply

Audio

Support standard left &   right channel line output;

support 3.5mm audio output   interface

Power amplifier

2 outputs (8 ohms, 5 watts dual audio   amplifier output)

Microphone

Differential MIC input

Touch screen

Support USB multi-point   infrared touch, multi-point capacitive touch, multi-point nano film touch,   multi-point sound wave

Touch, multi-point optical   touch and so on

RTC

Built-in real-time clock   function

USB

1 *USB-2.0 HOST , 1* USB2.0   OTG, 4 *Expansion USB

IR

Infrared receiver, support   infrared remote control function

LED

1*power status LED(green),1*system LED(green   blinking in default)

Button

1*upgrade key

Serial port

4 *UART,1 *DEBUG

IO Port

5 *IO input/output,Available key scanning control

Power Adapter

Input:AC100-240V.50-60HZ , Output: DC12V 1.5A

(Requires surge voltage   less than 18V and ripple voltage less than 100mV)
Software   specifications

Operation system

Android 7.1.1

Audio

MP3,WMA,WAV, APE, FLAC, AAC, OGG,M4A,3GPP and other   formats

Video

Support AVI,rm,rmvb, MKV,WMV,MOV,MP4,DAT,PMP,MPEG,MPG, FLV,ASF ,TS, TP,3GP,MPG and other formats

Image

Support JPG、BMP、PNG and various images formats

System default   application software

APK Installer, Email, Calculator, Browser, Recorder, Calendar, Settings,

Clock, Video Player, Search, Contacts, Gallery, Download, Camera, Music,

Explorer, etc.

Language

Support multi-language

Input method

Standard Android keyboard with optional third-party input method

System Management

Original ecological Android system, open root permissions, and can

customize product development

Real-time remote monitoring, system crash self-recovery, unattended 7 *   24

hours

Support OTA remote upgrade; support U disk upgrade

Support boot animation definition

Support server / stand-alone mode switching

Support Wi-Fi hotspot

System   watchdog

Support software watchdog
Further Information:
Huidu HD-40
Huidu HD-40S LCD Controller Specification
Huidu HD-40M LCD Controller Specification