Huidu HD-T901B LED Sending Box LED Display Screen Controller
$111.00
Regular price
$300.00
Synchronous Sending Box HD-T901B
HD-T901B is a synchronous sending box with one DVI signal input, 2 Gigabit network, the maximum load capacity is 1.3 million pixels, widest 3840 pixels, highest 2048 pixels, support multiple device splicing control LED screen.

1. Support 1 dual channel stereo input;
2. One DVI video input;
3. USB-B control interface;
4. Cascading multiple units can be unified control;
5. Built-in 110V~220V AC to 5V DC transformer;
6. 2 network port output, maximum control of 1.3 million pixels.
Huidu HD T901B Synchronous Sending Box Connection Diagram: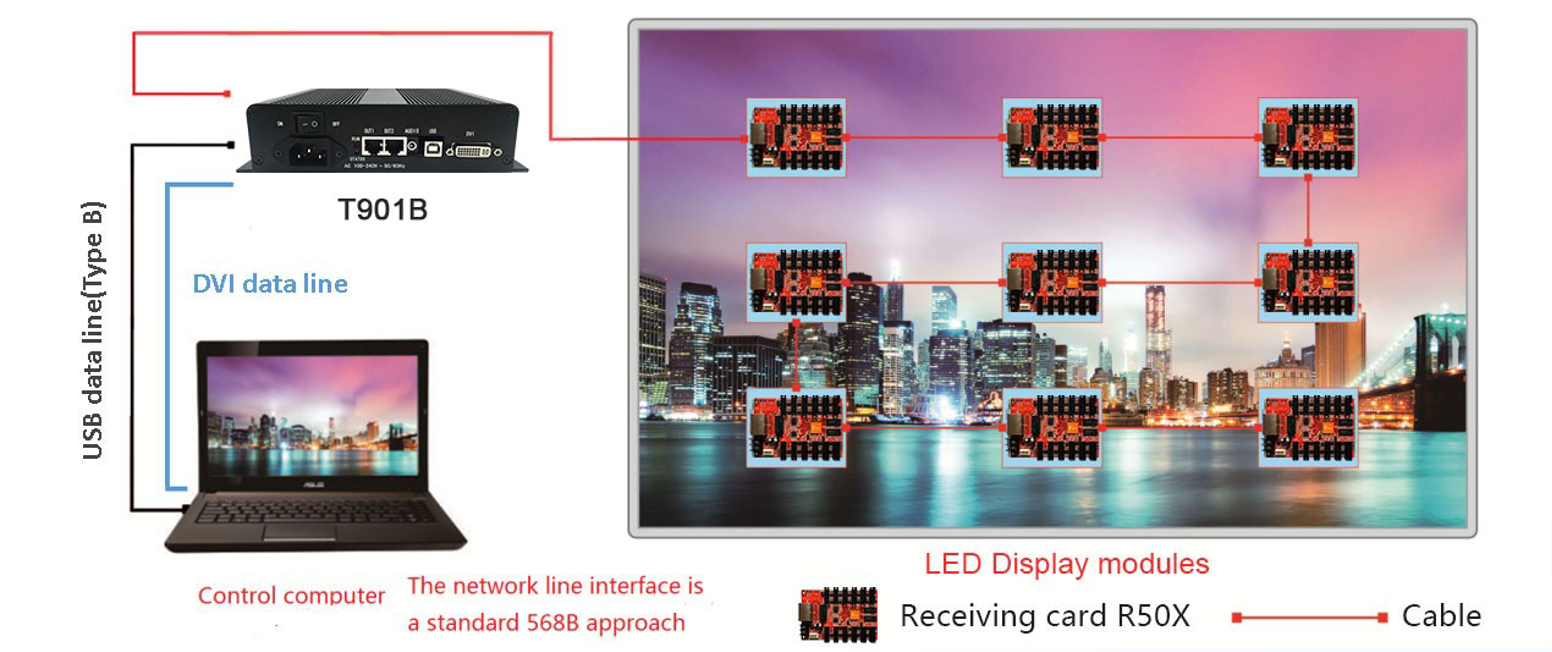 Huidu HD T901B Synchronous Sending Box Parameters:
Function
Parameters
Control range
1.3 million pixels (1280*1024@60Hz)

 

Note:width more than1920 pixels, it need used with video processor.

Program update
DVI synchronous display
Audio output
Standard 3.5mm interface dual channel   stereo input
Audio input
Need to cooperate with multi-function card   to achieve audio output
Communication type
USB-B type interface, Gigabit network port
Play box interface
Input: AC 110~220V 50/60Hz   power terminal *1, DVI *1, USB 2.0 *1

 

Output: 1000M RJ45 *4,   dual channel Audio* 1

Operating Voltage
4.5V~5.5V,Input voltage AC 110~220V
Debugging software
HDSet
Player software
HD Show(not necessary)
Power
10W

Further Information:
Huidu HD-T901B
Huidu HD-T901B LED Controller Specification