Huidu 4K LCD Smart Motherboard HD-972S LCD Multimedia Card LCD Display Controller
$76.00
Regular price
$100.00
4K LCD Smart Motherboard HD-972S
HD-972S it is a well-built all-in-one motherboard, adopting Amlogic T972 quad core Cortex-A55 processor, equipped Android 9.0 system, the main frequency can reach up to 1.9 GHz, with super performance. Use Mali-G31 GPU, support AFBC (frame buffering from compression), 4K, H.265 hard decoding,1080P video decoding, V-By-One interface 4K output, 4K level video playback.
High performance. T972 Chip with quad core ARM Cortex-A55 architecture, the main frequency can reach up to 1.9GHz, compared with the common single-core, dual-core, and quad-core solutions on the market. It has a qualitative leap in performance, can play high-definition video in various formats, and can handle complex interactive operations.
High stability. T972 Android integrated board, in terms of hardware and software, adds its own unique technology to ensure the stability of the product, which can make the final product reach 7*24 unattended hours.
High integration. T972 Android integrated board integrates Ethernet, V-By-One, Wi-Fi, Amplifier, TF Expansion Card, USB expansion port, IR remote control function, CTP, HDMI-IN, LVDS, backlight control, microphone and other functions, which greatly simplifies the design of the whole machine.
High scalability. 5 USB ports (3 pins, 2 standard), 3 serial ports (UART1 Adjustable by hardware RS485, UART2 Adjustable by hardware RS232, MCU_UART serial port with MCU Burning port shared) +1 channel expandable debug serial port, 5 IO expansion port can expand more peripheral devices.
High definition. Support various V-By-One, LVDS interface LCD display screen, supports cropping screens of various sizes and resolutions.
Perfectly supports multi-point infrared touch, multi-point capacitive touch, multi-point nano-film touch, multi-point acoustic wave touch, multi-point optical touch.
4K LCD Smart Motherboard HD-972S Product Diagram: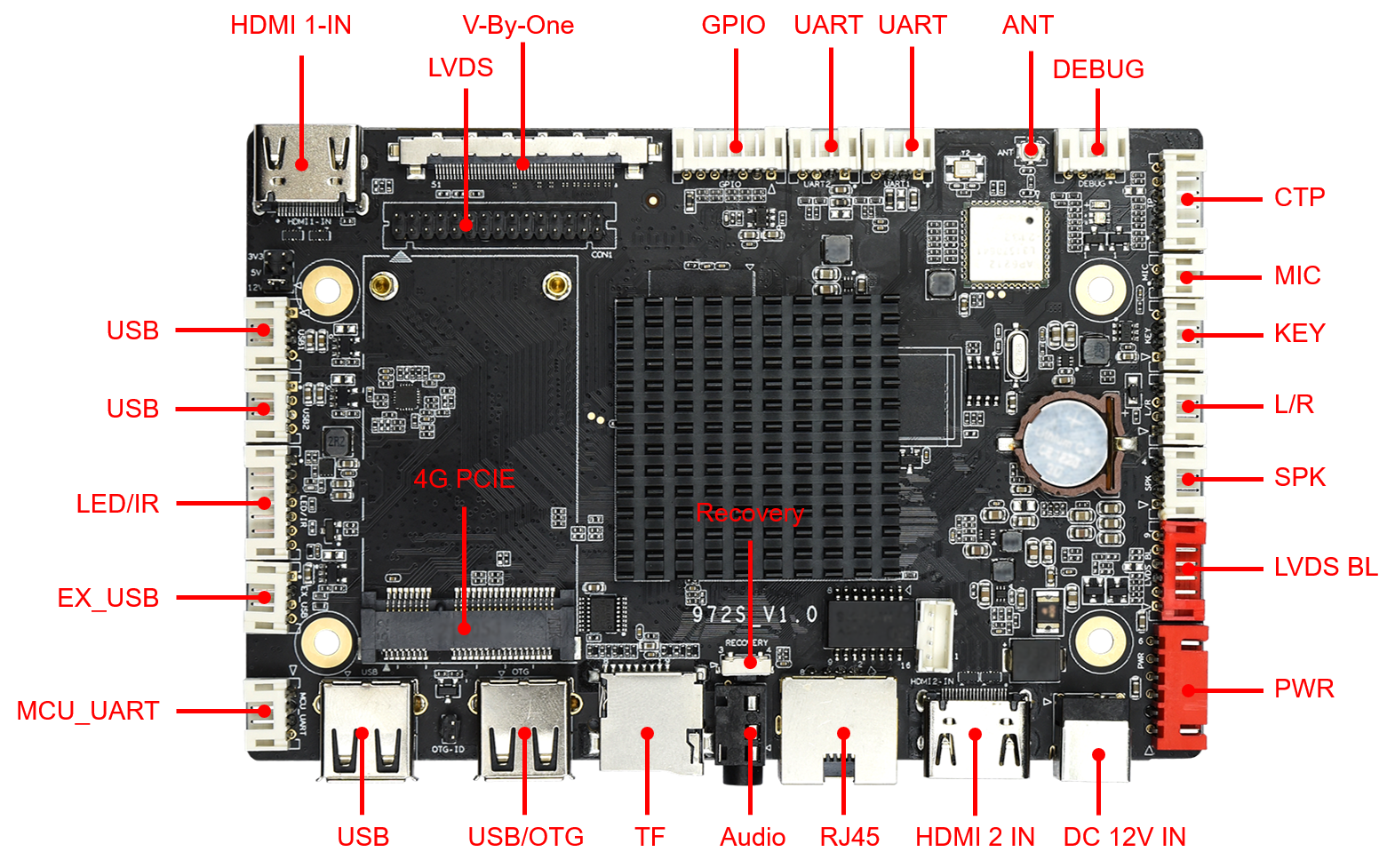 4K LCD Smart Motherboard HD-972S Size: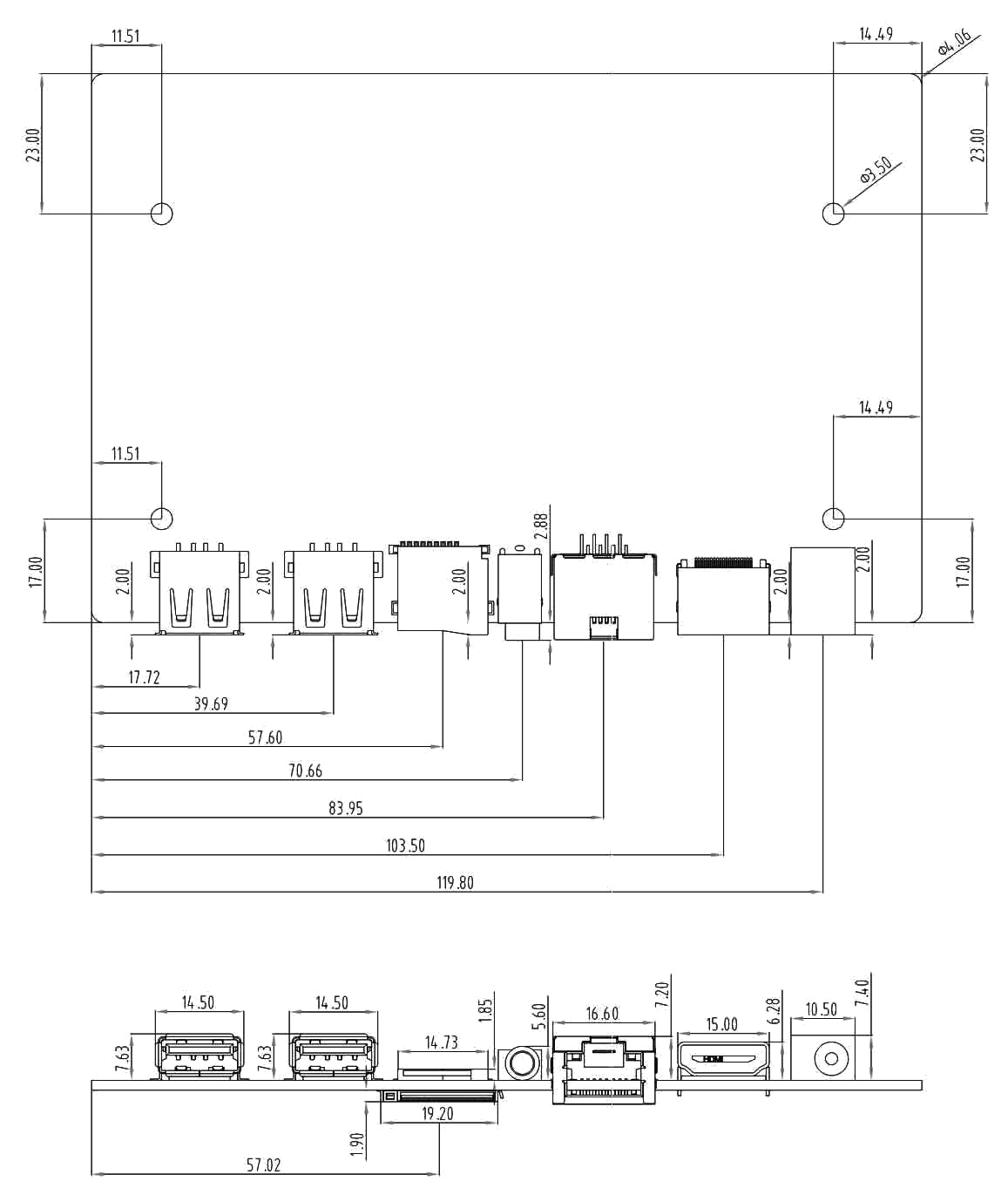 Hardware Specifications

CPU

T972,   Quad-core, Up to 1.9GHz, Android 9.0

GPU

Mali-G31   GPU

Quad-core   GPU

Memory

LPDDR4, Standard 2GB

Built-in storage capacity

eMMC Standard 16GB

TF Card   extension (available for extension SSD)

Network

Support   RJ45 R/A Fast Ethernet

Support   Ethernet;

Support   2.4GHz Wi-Fi; Optional 5GHz;

Support   Wi-Fi 802.11b/g/n Protocol;

Support   Bluetooth 4.2

Display interface

1 channel   LVDS port, support 1080P output, adapt 3.3V/5V/12V powered

1 channel   V-By-One port, support 4K output.

2 pcs HDMI   IN ports, support 4K input

 Image rotation

Support   0°,90°,180°,270° or manual rotation, optional gravity   sensor module to achieve automatic rotation.

Audio

Support   standard left and right channel line output; support 3.5mm audio output   interface.

Amplifier

2   pcs output (8 Europe 5 watts dual studio amplifier output)

Microphone

Difference   MIC input

Touch screen

Support   USB Multi-point infrared touch, multi-point nano-film touch, multi-point   acoustic wave touch, multi-point optical touch and so on.

RTC

Built-in   real-time clock function

USB

1 piece USB-2.0   HOST, 1 piece USB2.0 OTG, 3 pcs USB ports (One of them is shared with 4G   module).

Infrared

Infrared   receiver, support infrared remote control function

LED

1* Power Status   LED (green), 1* System LED (green, blinking by default)

Button

1*Upgrade Button

Serial port

3   serial ports (UART1 can adjust RS485 through hardware, UART2 can adjust RS232   through hardware, MCU_UART serial port is shared with MCU programming port),   1 channel DEBUG

GPIO

5-way IO   input and output control, can do key scanning control

KEY

Support   power on/off function, reserved reset, ADC function

Power adapter

Input:   AC100-240V.50-60HZ, Output: DC12V 1.5A

(Requires   surge voltage less than 18V, ripple voltage less than 100mV)

Storage humidity

10%~90%, no condensation

Storage temperature

-40℃~70℃

Operating temperature

-20℃~70℃
Software Specifications

Operating System

Android   9.0

Audio

MP3, WMA,   WAV, APE, FLAC, AAC, OGG, M4A, 3GPP and other formats

Video

Support H.265,   H.264, VP8, MAV, WMV, AVS, H.263, MPEG4 and other video formats

Image

Support   various image formats such as JPG, BMP, PNG

System Comes with Application Software

APK   Installer, Email, Calculator, Browser, Recorder, Calendar, Settings, Clock,   Video Player, Search, Contacts, Gallery, Download, Camera, Music, Explorer,   etc.

Language

support   multi-language

Input

Standard   Android keyboard with optional third-party input method

System Management

Original   ecological Android system, open root permissions, and can customize product   development

Real-time   remote monitoring, system crash self-recovery, unattended 7 * 24 hours

Support   OTA remote upgrade; support U-disk upgrade

Support   boot animation definition

Support   server / stand-alone mode switching

Support   Wi-Fi hotspot

System Watchdog

Support   hard watchdog and software watchdog
Further Information:
Huidu HD-972S
Huidu HD-972S LCD Controller Specification