Colorlight Cloud Player LED Display Controller A200 A100 A60 LED Multimedia Player
$440.00
Regular price
$699.00
Colorlight A200 / A100 is a new generation of synchronous and asynchronous cloud networking players, supporting synchronous display and asynchronous playback output. Support 4K 10bits H265/H264 hard decoding, 4K VP9 decoding, support 1920×1200@60Hz output. Based on the powerful Colorlight cloud service platform, it provides browser login device monitoring, program production, scheduling and cluster publishing, multi-level authority management and other functions.
A200
 / A100
supports WiFi, LAN, 4G (optional) multiple networking methods, rapid deployment to achieve intelligent cloud management functions, multi-screen, multi-service, and cross-region unified management, reaching a new level in the LED commercial display networking cluster application.
A200
 / A100
supports arbitrary arrangement of multi-window programs, supports video, pictures, text, tables, clocks, streaming media, web pages, weather and other program material playback, and supports up to 2 channels of 1080P video decoding and playback at the same time or 1 channel of 4K video decoding and playback . Support the use of PlayerMaster for program editing and publishing.
The A200
/ A100 
has a permanent WiFi hotspot on board, and supports WiFi hotspots in the connection environment, and supports mobile phones, tablets, computers and other devices for program management and parameter setting. A200 
 / A100
supports timing settings and local area network scheduling, and is equipped with a light sensor interface, which can realize automatic brightness setting to meet the brightness adjustment needs of various occasions.
Connect to the network through WIFI/LAN/4G module (optional) for cloud cluster management
Support synchronous input display or asynchronous playback display, support setting synchronous and asynchronous priority
Max. load A200:2.3 million pixels |  A100:1.3 million pixels | A60:1.3 million pixels 
Asynchronous maximum output 1920X1200@60Hz picture, maximum width 4096 pixels, maximum 2560 pixels
Support audio output
Built-in 8G memory, users can use 4G storage capacity, support USB playback
Fully compatible with conventional synchronous control system program management and display screen configuration mode
System authority authentication, support data channel encryption
Multi-level authority management, release after program review
Real-time monitoring of playing content, timely feedback of running status
Various sensors on the screen, cloud detection and intelligent linkage
Support U disk plug and play
Support multi-screen synchronized playback (GPS synchronization, NTP synchronization)
Support timing schedule, support LAN schedule, Internet schedule
It can be configured as a WIFI hotspot, supporting PC, mobile phone, pad and other smart terminals for management
Support the monitoring of operating environment temperature, humidity, brightness and other parameters, and automatically adjust the brightness of the display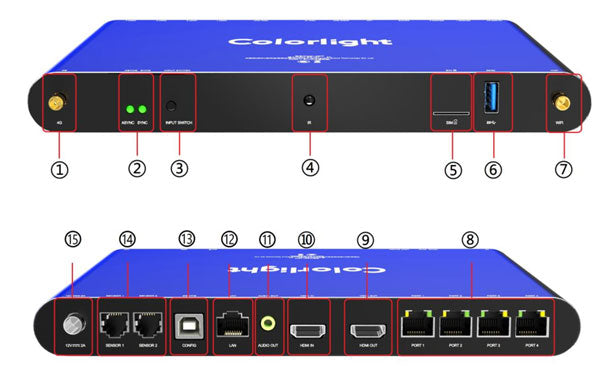 Further Information:
A200
Colorlight A200 LED Video Controller Specification
Colorlight A200 LED Video Controller User Manual