Novastar 10G SFP Module Fibre Optic Module
$140.00
Regular price
$180.00
NovaStar 10G SFP Module Fibre Optic Module Single Mode/ Multi Mode

Compact 10Gb/s optical transceiver module for serial optical communication applications. It can convert serial electrical data streams to optical output signal, and optical input signal to serial electrical data streams. The high speed electrical interface is fully compliant with SFI specification. Choose from either single mode, or multi mode.

Supports 9.95 to 11.3Gb/s bit rates
10GBASE-LR/LW Ethernet
SONET OC-192 / SDH
10G Fiber Channel
Hot-Pluggable
Duplex LC connector
1310nm DFB transmitter, PIN photo-detector
S Mode transmits up to 10km, and M mode transmits up to 400M
RoHS compliant
NovaStar 10G SFP module is compatible with all NovaStar devices with SFP connection.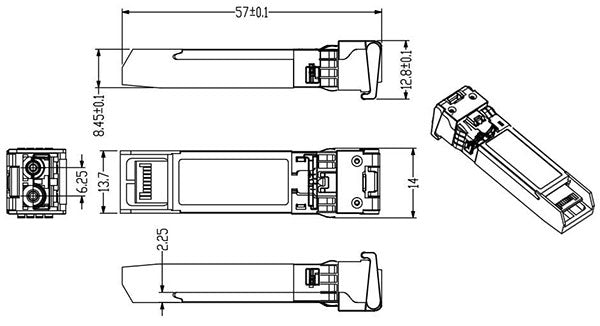 The Novastar 10G SFP Fiber Module fits into the empty fiber slots on the back of these five products: MCTRL660 PRO, MCTRL R5, MCTRL 4K, & NOVAPRO UHD JR,NOVAPRO UHD.
1.
Mctrl660 PRO
:
 2 Fiber Modules Needed (OPT 1 = MAIN, OPT 2 = BACKUP)
2.
Mctrl R5
:
 2 Fiber Modules Needed (OPT1 = MAIN, OPT 2 = BACKUP)
3.
Mctrl 4K
:
 4 Fiber Modules Needed (OPT1 = LED OUT 1-8, OPT2 = LED OUT 9-16, OPT3 = BACKUP of LED OUT 1-8, OPT4 = BACKUP of LED OUT 9-16)
4.
NovaPro UHD Jr
: 
Same as
Mctrl 4K
5.
NovaPro UHD
:
Same as
Mctrl 4K
NovaStar 10G SFP module 

Specifications
Glass fiber interface : LC connection
Supply voltage : 3.3 V
Power consumption : <1.5 W
Dimensions : 57x14x12.8 mm
Weight : 0.02 kg
Operating temperature : 0 ~ + 70 °
Humidity : 0% - 85% RH
Further Information:
Novastar 10G SFP Module Fibre Optic Module