Magnimage YC400 YC200 MIG-M4K M3K LED Display Screen Multimedia Video Server
$4,000.00
Regular price
$8,000.00
MIG-M4K Multimedia Video Server
MIG-M4K is a high performance media server by using server-level CPU, main board, memory, power supply and other high-end hardware, with strong, stable and flexible expansion characteristics. It can reach 4 channels of 4K×2K@60Hz lossless video smooth playback and ensure the stable working condition of 7x24 hours.
Bult-in Video Server Series Software, which support ulimited layer, unlimited scenes, scenes switch pre monitoring, scene loop mode, layer special-shaped effects etc.,easy to decode and play the big resolution video and to manage multi videos. The strong working ability of MlG-M4K will bring great efficiency improvement for the people in the industry.
4 channels of 4K×2K@60Hz mosaic output
Virtual screen
HAPQcode
Output port virtual zoom function
Continuous scenes loop playback
Automatic software update
Drag files and folders in signals list
Communication protocol
Change playback time In batch
Scene random switch
OSD Subtitle scrolling and background customization
MIDI keyboard and PC keyboard operation can be externally controlled
Lile version master and standby machine back-up function
Artnet protocol control
OSC protocol control
Downward compatibility of software engineering documents, Support v2.0.0.8 and above
Playing HDRvideo
Capture card function
PPT turn-page function, support Cue light flipper
PPT compatible with WPS and MS Office
Support NDI aquisition box
Fast drop out
Left and right channels, stereo channels
Material custom duration (except video)
Custom configuration master layer
Layer properties polygon affect
Custom

Watermark layer

Main KV switch
Windows version support Spout input/output
Instant lockdown software
Scene replication
Layer arbitrarily marshalling
On/Off system restore and custom restore point
Custom scene layer template
3D video mosaic output
MIG-M3K
:Support 3 channels DP mosaic output
12K×2K(11520px*2160px) pixel to pixel mosaic in range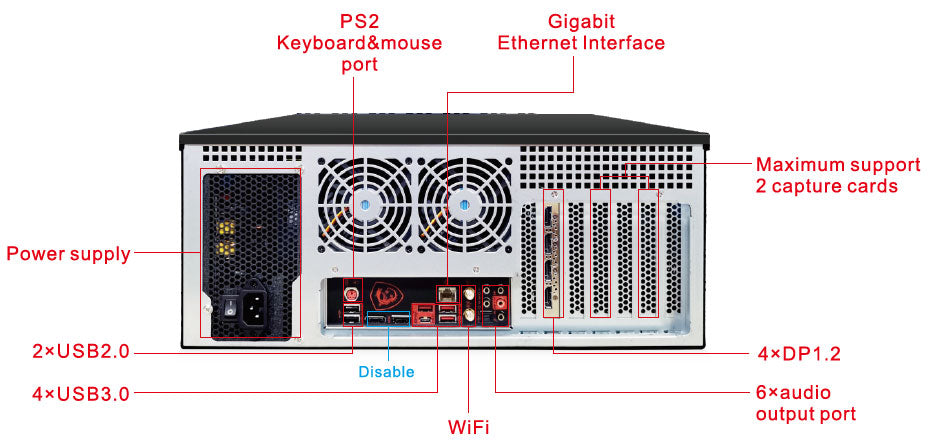 MIG-C2000
:DP*3 splicing output, pixel-to-pixel splicing within 12K x 2K(11520px*2160px)
MIG-C2000 series is a lightweight and powerful multimedia server from Magnimage. It is equipped with a built-in Dalijin G4 or CREATOR R6 broadcast control software, which can realize multi-layer input, unlimited scenes, scene switch preview, custom scene loop mode, multi-layer playback preview and various special effects, etc. It can meet the needs of small and medium-sized rental companies in the market. Broadcast control needs for events and LED screen projects.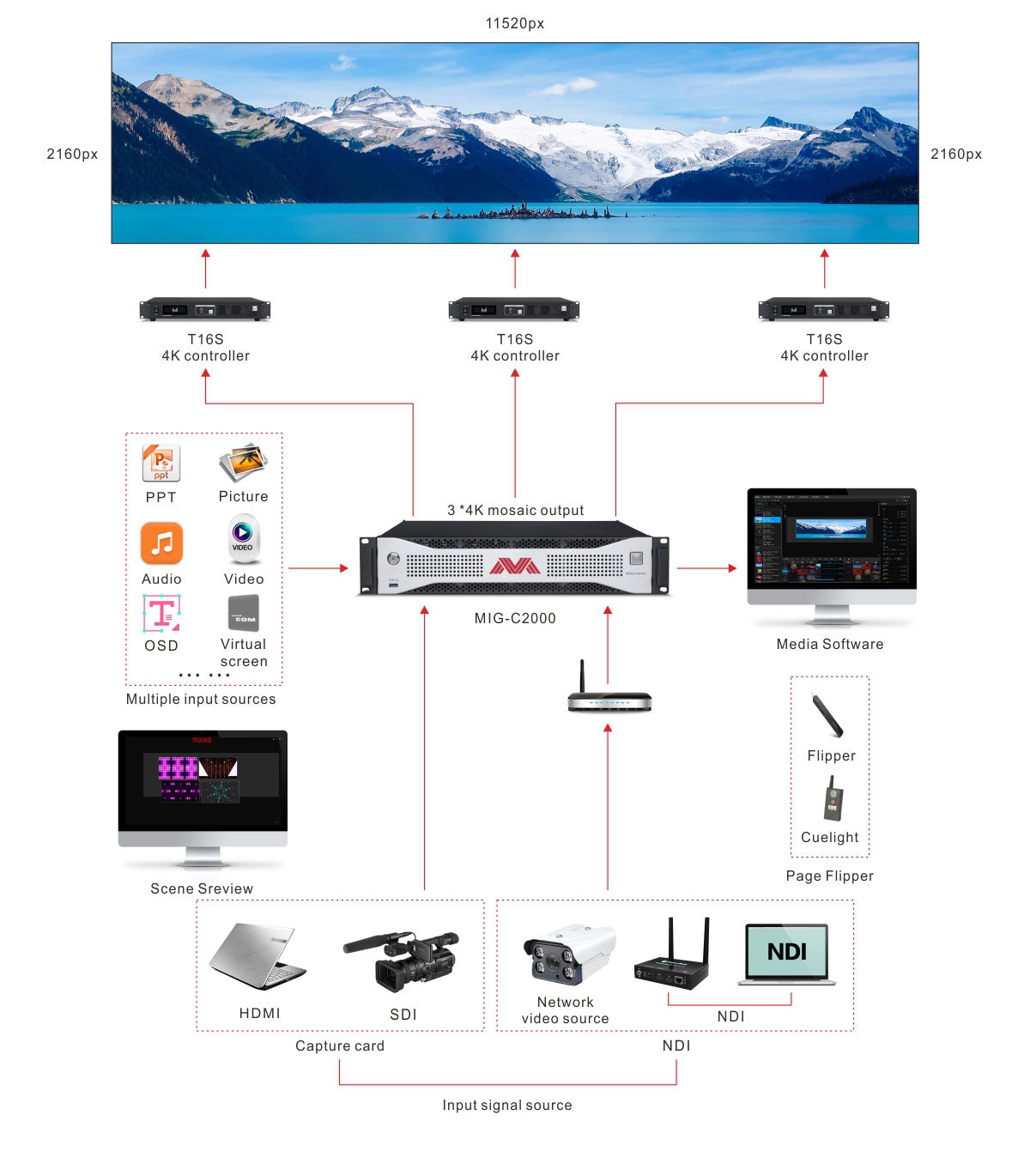 Magnimage MIG-M4K Video Server
Functions and features:
Server-level CPU,High-end hardware,Excellent performance
Supports 4-channel DP splicing output for easy point-to-point splicing in the 16Kx2K/8Kx4K range 
Humanized Design, Convenient Operation
Video Server Series Software has user-friendly design of convenient operation interface, users can quickly get familiar with every function,
it can automatically list all video output ports of the running host machine, support console control and free-form decoding.
Rich video source and capture card functions
Compatible with all current playback material formats, including video, audio, picture, PPT, OSD, NDI and network video source material. Support the simultaneous acquisition of multiple camera signals, PPT page turning function,to meet the diversified broadcast control needs.
Fast editing, Powerful function
Using picture editing and layer mode operation, fast and accurate editing, preview and positioning of various video sources,it supports color adjustment, image setting, special-shaped editing,angle selection and other functional settings of the video screen.
Real time preview function
It supports the real-time preview function for video playing, which helps you preview the video picture quickly and accurately. 
Further Information:
Magnimage MIG-M4K
Magnimage MIG-M4K brief 1.2
Magnimage MIG-M3K
Magnimage MIG-M3K brief 1.0
Magnimage MIG-C2000
Magnimage MIG-C2000 brief