HNC HY-2005B Infrared Thermal Camera,Smart Body Temperature Screening System
$8,060.00
Regular price
$15,000.00

HCNC HY-2005B Infrared Thermal Camera
HY-2005B infrared thermal camera is a high-tech product integrating advanced optoelectronic technology, thermal imaging technology, image processing technology and control technology, characterized by its high sensitivity temperature measurement, intuitive thermal image, wide detection range, fast speed, noninterference with the target, and safe use. The core components of the system adopt advanced uncooled focal plane detector, and have a life of 40,000 hours with the temperature resolution reaching 0.05℃. As long as the target passes quickly within the detection range of infrared thermal camera, the detector immediately displays the thermal image of the body surface and the highest surface temperature, which will be obtained by the operator. If a fever person is encountered, the detector will immediately issue an alarm, effectively preventing cross-infection between the people.
Applications:Schools, stations, airports, hospitals, enterprise parks, office buildings, hotels, communities, bazaars, supermarkets, gyms, bookstores, etc.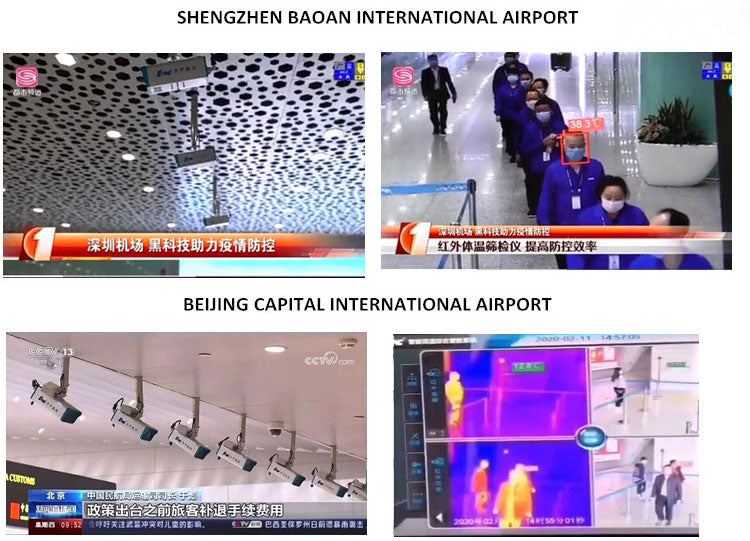 HNC HY-2005B Features:

Quickness:
The human body surface temperature is measured within 0.5 seconds while the people passing through the field of view.
Non-contact long-distance measurement:
The human body surface is measured 3-6 meters away from the camera, which will not cause the subject to aversion and panic. The monitor can be at the remote control table to avoid cross-infection.
Sensitivity:
The temperature resolution of the instrument can reach 0.05℃, which is suitable for detecting to pick out fever from safe place in sites with large groups of people.
Concealment:
The temperature measurement is performed without people's knowing, and does not affect the normal order of airports, train stations and other places.
Rich peripheral digital interface:
Provide infrared and high-definition visible light dual-channel network camera and high-definition digital image acquisition
Good software UI interactive design:
The software has been greatly improved in user experience, multi-visual presentation, arbitrary resolution display, and support for animation effect prompts, with strong operability, closeness, and sense of technology.
Specifications:

Product structure
Infrared camera, blackbody, two tripods, laptop
Pixels:384×288/336*256
Pixel size:17μm
Thermal Sensitivity NETD:≤50mK
Focal length:9mm/15mm/13mm
Angle of view:40°×30°
Frame rate:25Hz