CIOT All-round Spray Robot
$17,699.00
Regular price
$30,000.00
CIOT Spray Robot
Powered by an internal system, the spray robot can take over extensive floor and air at offices, factories, schools and other public facilities. It operates on auto-pilot along preset routes to accurately and efficiently spray through various work modes, shows work-in-process notifications, and automatically returns to base for recharging when running low on power. 
Spray on floors and inthe air 
Return to charging baseautomatically
Autonomous navigation and avoidobstacles
Autopilot for elevator access
Customized routes andtime frame
Longer battery life (2 hours and above)

Appearance and size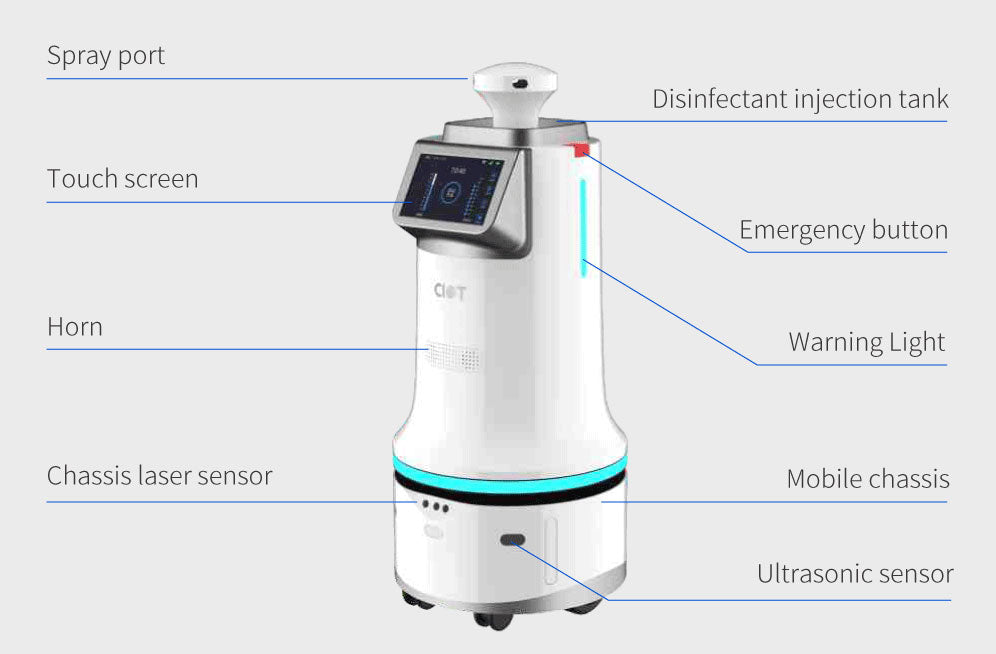 Application:Office,School,Government hall,Industrial area,Apartment,Front desk,Business center.



Main Functions
Vaporized 
Map Management
Route Preset
Task Previews
Location Management
Broadcast Setting
Liquid Level Notification
Autopilot to elevators 
Autonomous Recharge

Specifications:
Operating System:Android 7.1 or newer
Dimensions:Height: 1170mm Diameter: 522mm
Net Weight:75KG
Liquid Capacity:10L;
Flow Rate:≤1.2L/h, particle size within 10μm, 15min/1000m2
Disinfect Method:Vaporized Disinfectants mist
Display:10.1 inches, resolution 1280*800
Battery Capacity:24V 35Ah
Battery Life:6h
Notification System:Voice notification when liquid running low
Cleaning Method:Support manual drainage
Task Management:Support preset tasks for specific time frame
Navigation System:Laser
Obstacle Avoidance Sensor:Visual + Supersonic +Laser

Sensor Parameters
SICK laser: 10 meters
RGBD depth camera: 0.7m – 0.8m
Supersonic Sensor: 0.25m – 2.5m

Obstacle Avoidance
Hurdle capacity: 10mm Climb ability: 5 degrees

Speed:0.8m/s, maximum speed 1.5m/s,. able to move at all  (forward, backwards, left, right, and U-turn
Charging:Contact autonomous recharge, less than 4.5 hours till fully charged
Connectivity:WIFI/4G (customized 4G)
Motion Performance
Rotation radius : 0mm
Disinfectant:Hypochlorous Acid or hydrogen peroxide
Temperature (operation and storage)
Temperature (operation): 0º~40º ; Humidity (operating): 5%~85%, Storage Temperature: -10º~60

Disinfectant Solution Formula
1.Hypochlorous Acid ( used with people in the room):550mg/L hypochlorous acide solution, hypochlorous acide and water is ratio is 1:9,55ppm2.Hydrogen Peroxide Vapor (used with no one at present):Prepare 3% concentration hydrogen peroxide solution, add water, hydrogen peroxidesolution and water ratio is 1:1, 15000ppm 20ml/m3

Further Information:
Spray Robot Specification